Opening Hours
In these special times we want to help you as good as possible. Due to the current situation of the Corona virus we have adjusted opening hours, see the times below on this page. Our restaurant is open again on 2 June from 14:00 hours. Due to Pentecost we are closed on Monday 1 June.

ADJUSTED OPENING HOURS UNTIL 2 JUNE
Take Away & shop & sanitair

Monday 07.30 – 21.00
Tuesday – friday 07.00 – 21.00
Saturday and Sunday closed
Our adjusted menu is available on the outside of our building. Next to our take away menu we also have a breakfast package.
Truckwash
Monday – Friday 08.00-18.00 hours
Saturday 08.00 -12.00 uur
You can also pay with Pin, Shellcard or Hoyercard. You can also pay on our account for regular customers. You can not pay cash. If you want to be in our customer database please send an email to mail@truckstop8.nl.
Tankstation 24/7
Check our website for updates.
During these holidays we are closed
Pentecost, Sunaday 31 May and Monday 1 June. Tuesday 2 June we are open at 07.30 hours.
Monday
Restaurant / Shop / Sanitary:             07:30 – 22:00
Kitchen:                                           07:30 – 21:45
Truckwash:                                       08:00 – 19:00
Tuesday
Restaurant / Shop / Sanitary:             05:30 – 22:00
Kitchen:                                           07:30 – 21:45
Truckwash:                                       08:00 – 19:00
Wednesday
Restaurant / Shop / Sanitary:             05:30 – 22:00
Kitchen:                                           07:30 – 21:45
Truckwash:                                       08:00 – 19:00
Thursday
Restaurant / Shop / Sanitary:             05:30 – 22:00
Kitchen:                                           07:30 – 21:45
Truckwash:                                       08:00 – 19:00
Friday
Restaurant / Shop / Sanitary:             05:30 – 22:00
Kitchen:                                           07:30 – 21:45
Truckwash:                                       08:00 – 19:00
Saturday
Restaurant / Shop / Sanitary:             07:30 – 12:00
Kitchen:                                           Closed
Truckwash:                                       08:00 – 12:00
Sunday
Restaurant / Shop / Sanitary:             Closed
Kitchen:                                           Closed
Truckwash:                                       Closed
Please follow national regulations due to Corona virus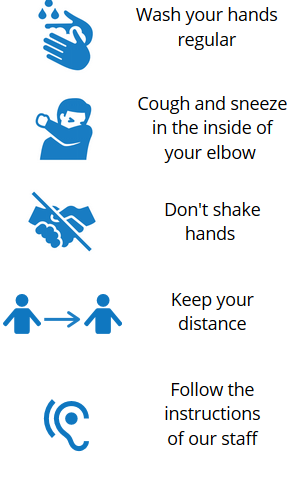 < Back